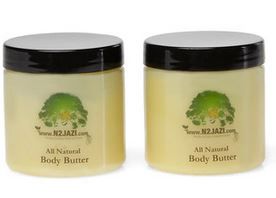 Where do we begin with this blend! So rich and filled with all the nutrients your skin could dream of- luxurious mix of Mango Butter, Shea Butter, Coconut and more! A little goes a long way. Get through your day with a natural glow!
1 - 4 oz container
Ingredients:All natural Coconut Oil, Avocado Oil, Mango Butter, Cocoa Butter, Shea Butter, Olive Oil, Vitamin E, Grapeseed Oil, Essential Oil
(Pictured: 2 containers shown for display purposes. To purchase 2 or more - 4 oz containers of 
luxury 
body butter , please update your cart quantity).