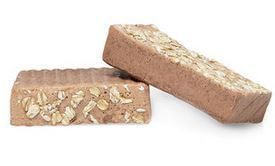 Use this loaf of soap to take the worries out and calm irritated skin with soothing oatmeal. Don't let the smell fool you - it's soap!


Ingredients:Saponified Coconut Oil, Avocado Oil, Mango Butter, Shea Butter, Cocoa Butter, Glycerin, Oat, Cinnamon, Essential Oil, Purified Water
1-Soap Bar
**Soaps pictured are for display only. Unless custom ordered, soap will be in a square or rectangle shape.